Minivent
SK

inline Bathroom Shower Kitchen Toilet extractor fan by Vent Axia

Vent-Axia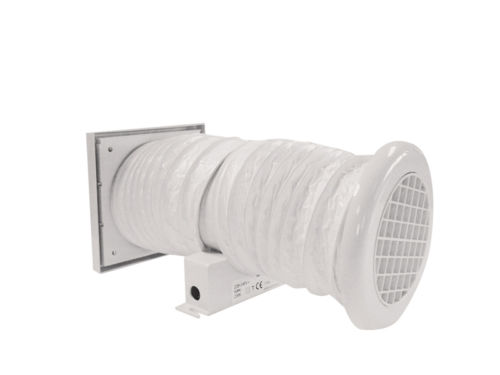 Single speed 100mm in-line axial extract fan. Ducted bath/​shower kit, consists of a Minivent IP44 In-Line fan, a ventilation kit consisting of a white ceiling grille and spigot, external louvre for soffit or wall mounting plus 3 meters of flexible duct. The duct should be cut to size, the bend radius should be kept to a maximum to provide the best fan performance
Important Note — Building regulations state ​"in a room with no openable window, an intermittent extract fan should be used with a run on facility set to a minimum of 15 minutes."
Code & Description
Price
248710B : Minivent SK inline Bathroom Shower Kitchen Toilet extractor fan by Vent Axia
£30.01 + VAT £36.01
We accept :

15
% discount with code ​
'
welcnfan
1
'
Note: Code can only be used once per customer. Discount codes are entered after selecting shipping method.
Need it today? We offer same day deliveries
Same day deliveries locally & nationwide (UK mainland only). Price on request — Send message with your order, or call 0161 864 1777.